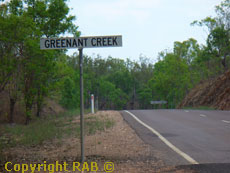 Greenant Creek – 2WD accessible. Greenant Creek Walk through rainforest to another attractive plunge pool. Typically un-crowded (start at the bridge across Greenant Creek), approx 2.7kms return, 1.5hrs duration, level (moderate, however steep in sections). Tjaetaba Falls Walk: 2.7 km return, 90 minutes: This walk is graded as moderate. You do have to walk from the lowlands up to the secondary plateau to reach this waterfall. Tjaetaba is on one of the smaller creek systems in the park and the flow may stop towards the end of the dry season. With Tjaetaba being a smaller system, larger tour groups tend not to use this area.
Tjaetaba Falls Falls - 2WD only check road conditions. No swimming is allowed at the base of the falls due to cultural reasons of the local Aboriginal people. Back to the Greenant Creek main page.
Tjaetaba Falls Walk: The walk starts from the picnic area. Crossing Green Ant Creek you walk besidethe rainforest and over a marshy area on a boardwalk. You cross Green Ant Creek again above the junction with the creek flowing from the waterfall. Once you have crossed the creek you begin to descend the hills to the secondary plateau. This area is the home of a mob of Common Wallaroos. When you reach the top you will come to a set of stone steps leading down to a lookout beside the falls. Going back to the walk you continue to the rock holes at the top of the falls.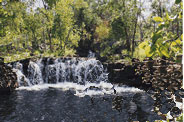 Swimming is allowed here and the views while sitting in the rock holes are normally found on postcards. When you tire of the peace and quiet follow the walk back to the picnic site.